When it comes to travel, most people are aware how stressful it can be getting to a destination. With digital identity verification at the forefront, waiting times are over allowing travelers to enjoy that cocktail on the beach sooner than expected.
With the travel industry booming once more, many people are booking their long-awaited vacation to far-off destinations around the globe. However, a majority of customers have directed their focus to booking their travels online with around 82% of travelers booking through a website or mobile app. Technology has taken the front seat when it comes to travel, and not only through booking, but the entire journey of the traveler.
It is estimated that around 700 million people will make a booking online in 2023, as people around the world click, book and leave on a jet plane to their dream destinations. Thus, it's no surprise that the online travel market has been valued at $2.3 trillion in 2023 and will only go up from there with an estimated compound annual growth rate of 10.3%. But despite this surge in travel, with it comes the insecurities of fraud as well as the long waiting times throughout the journey from booking to arrival.
Online travel fraud awareness.
Travel fraud is a growing problem in the industry, with many different types facing travelers and booking platforms. Specifically in air travel, airlines account for 46% of all online fraudulent transactions, so it's no surprise that airlines lost over 6.5 billion to fraud in 2021. Even the International Air Transport Association (IATA) estimates that the airline industry suffers about $858 million a year, coming out to $639 million just for the airlines in payment fraud.
But what are the most common types of online travel fraud? Perhaps the most obvious, and what's costing airlines millions of dollars, is stealing payment and personal information such as credit card fraud and using stolen payment information for last-minute bookings or hotel price spikes.
While credit card fraud and identity theft are two of the more widely known types of travel fraud, there are many other forms that can be just as damaging. Such instances include:
Travelers finding themselves victims of scams such as fake bookings or hidden fees on hotel rooms or airline tickets
Phishing attacks, where criminals attempt to gain access to sensitive personal information by pretending to represent legitimate companies
Ticketing frauds like double booking flights
Cyberattacks targeting airline loyalty programs
Additionally, data breaches on online booking platforms have become increasingly common. A data breach is when sensitive information, such as credit card details, passport or address information, is accessed without authorization. In the context of travel bookings, this information is often collected by third-party booking platforms, making it vulnerable to travel fraud. Hackers can use compromised data to book unauthorized trips or even sell that information on the dark web for monetary gain.
As technology continues to advance, so do the methods used by criminals to take advantage of unsuspecting travelers – making it essential for everyone involved in the travel industry to stay vigilant against these kinds of threats.
Hotel fraud in the hospitality industry.
Learn more about the different types of fraud in the hospitality industry and how to secure your booking platform.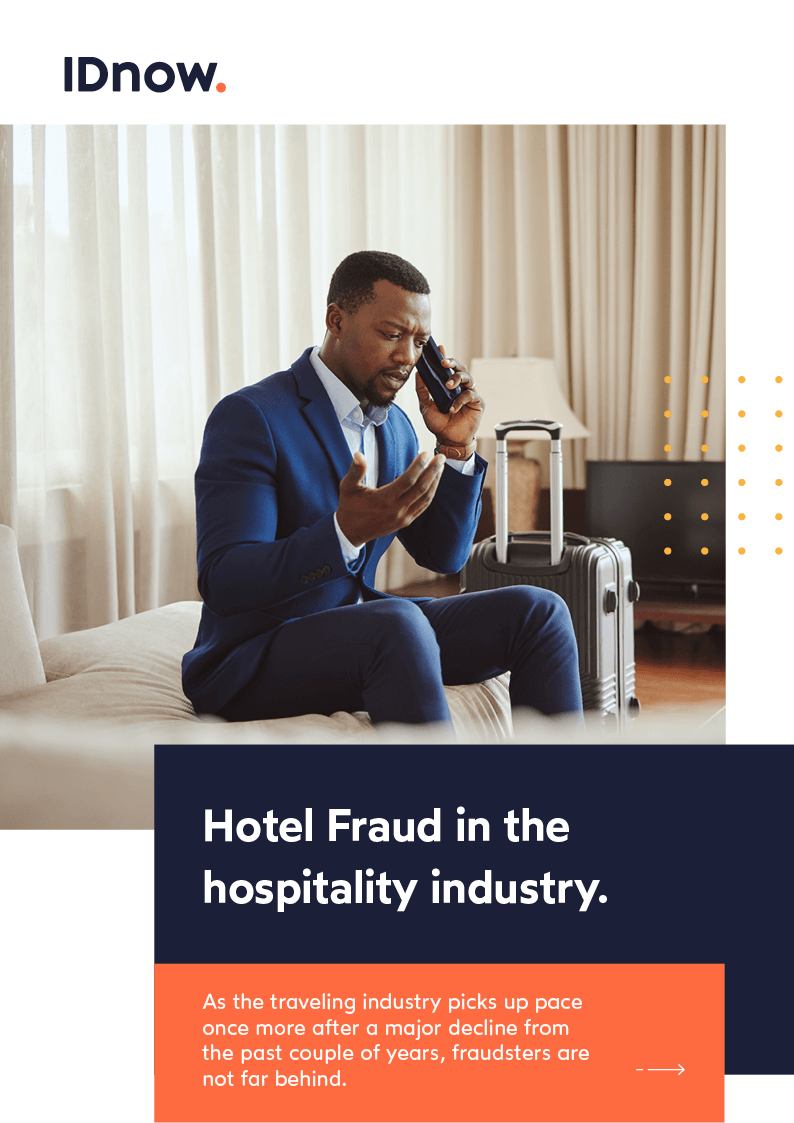 Planning ahead for a seamless journey.
But despite the threats and negative consequences that fraud causes in the travel industry, digital identity is there to step in not only to prevent fraud from occurring but to make travel seamless for both travelers and booking platforms.
When it comes to digital identity verification, verifying travelers before they even check-in to a hotel, vacation rental or flight can provide security for both guest and host. By asking for a form of identity verification in advance, this allows hosts to know they are doing business with honest and responsible individuals and the guests in turn can rest assured they are using a verified site to book their travel needs. Even world-renowned rental platform Airbnb expanded their ID verification earlier this year to require all rental customers and hosts to verify themselves through an ID check with biometrics and in some cases selfie, to help better manage fraud and hold guests and hosts accountable for their actions. But it doesn't end there.
Along with upfront security, by asking for verification in advance, hosts and travelers can save time later when they are checking in to their rooms, homes or flights making the journey less stressful just like a vacation should be. By optimizing booking, the time that verifying identity would take up later during check-in can be spent instead already getting settled into a seat on a plane or unpacking in that nice hotel that was booked. All that is needed later is a smartphone for a quick digital check-in.
Furthermore, by preparing all verifications in advance, there will be fewer documentation requirements later and no need to continually have to search for them in bags at the airport or at the accommodation. Eurostar has already begun using such systems at London's St Pancras International Station where travelers have the ability to go contactless when verifying their identity at pre-departure gates. Paperless verification is just over the horizon.
Digital Identity Verification—the best travel buddy.
With the many benefits that digital identity verification has to offer, travelers and hosts can truly be at ease when booking and accessing their trips. Efficiency is reached along with improving the customer experience.
Hosts need only implement ID verification when booking in order to receive the peace of mind that guests are who they say they are. Once that has been approved, which only takes a couple of minutes, hosts can focus more on the customer experience which in reality they already did. By providing an easy-to-use verification system when booking, guests will know they are not only using a safe site, but also are saving time later when traveling.
IDnow's verification services provide travel businesses with the assistance they need in order to implement a seamless experience for them and their guests. With fraud on the rise in the travel industry, especially data breaches and stolen payment and personal information, our fully automated identity proofing solutions provide the ease needed to verify customers' IDs along with age and address verification. Our solutions protect your business in real-time and offer worldwide document coverage.
Waiting times are over with digital identity verification.
By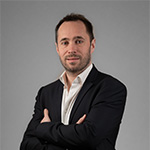 Edouard Baussier
Global Mobility and Travel Sales Director at IDnow  
Connect with Edouard on LinkedIn